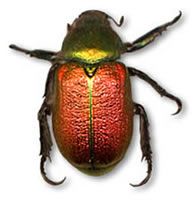 integrateras
"I have very strong views on 'integrated' campaigns. They're not just about a great core idea tailored across different comms channels. No, they arise from a properly constructed, fluid creative department. One that houses (and values) all channel skillsets and works seamlessly with planning and production to produce campaigns that are weighted and targeted where they need to be. Not just where the agency's core skills lie. A segmented, ghettoized creative department is a thing of the past. OK, rant over… and relax."
The Guardian: RYDER CUP, DIRECT AMBIENT/POS/NAT. PRESS – 'CAMOBALL'
This picked up a raft of ambient gongs and was a (very rare) example of two agencies (Claydon Heeley and DDB) working well together to produce a collective masterpiece of communications.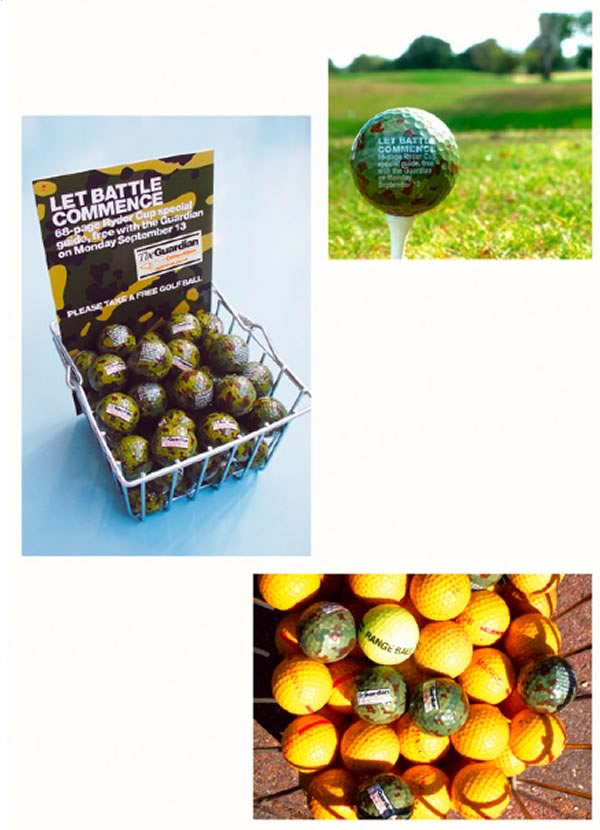 "Won lots of awards, a great of example of 'integrating' an idea across two agencies – Claydon Heeley and DDB."
---
MERCEDES-BENZ: R-CLASS DIRECT MAIL/BANNERS/MICROSITE – 'Writers'
http://sixjourneys.mercedes-benz.co.uk/r-class/home.php
for the full story (or should that be stories...)
"One of the most enjoyable – and effective – integrated ideas I've ever been involved with. A testimonial x 6. Never enjoyed writing as much. Meeting the six individual writers was inspirational – and a challenge of my editing skills – some of the 'longer' writers couldn't cut their letters below 500 words – I needed them to be 100 max. We also worked closely with fellow ZULU company, Agency Republic, to faithfully and elegantly interpret Claydon Heeley's original idea online. The ROI was an incredible 55:1."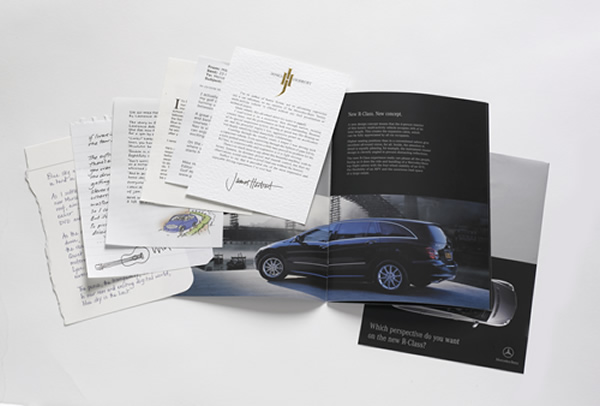 ---
Egg: Mortgages DR Press/DR banners/MPUs – 'Mortgage Monster'
"This is just so bang on the Egg brand. Of all the financial institutions I can think of, only Egg could get away with having a big, cuddly mortgage monster. Very human copy from a great young writer called Kristian Wheater, who we dragged off the streets and planted in a Fison's Copywriting Grow-bag. He blossomed amazingly in just two years. "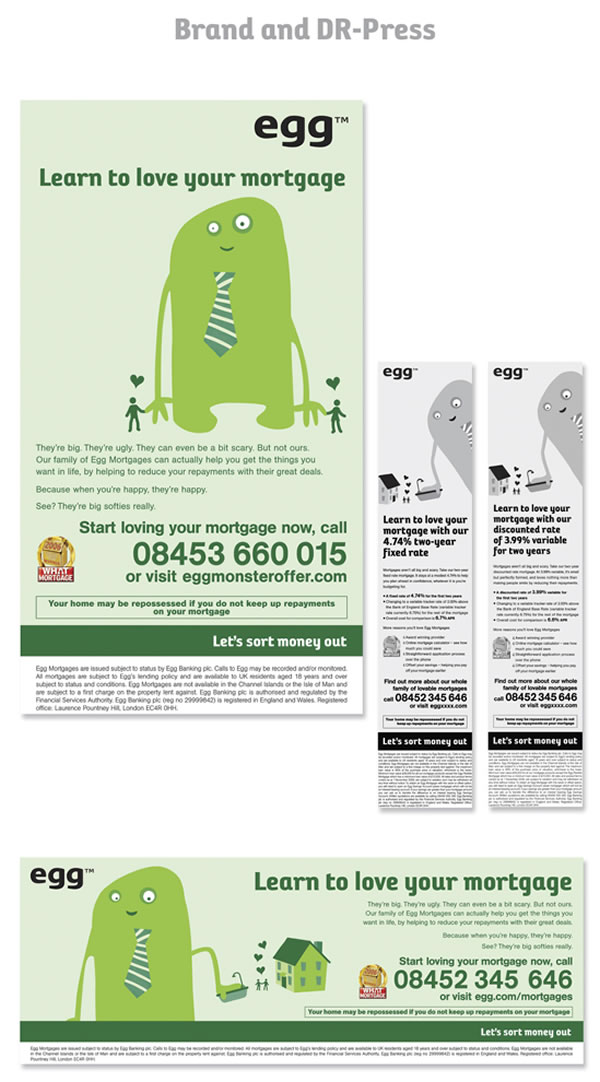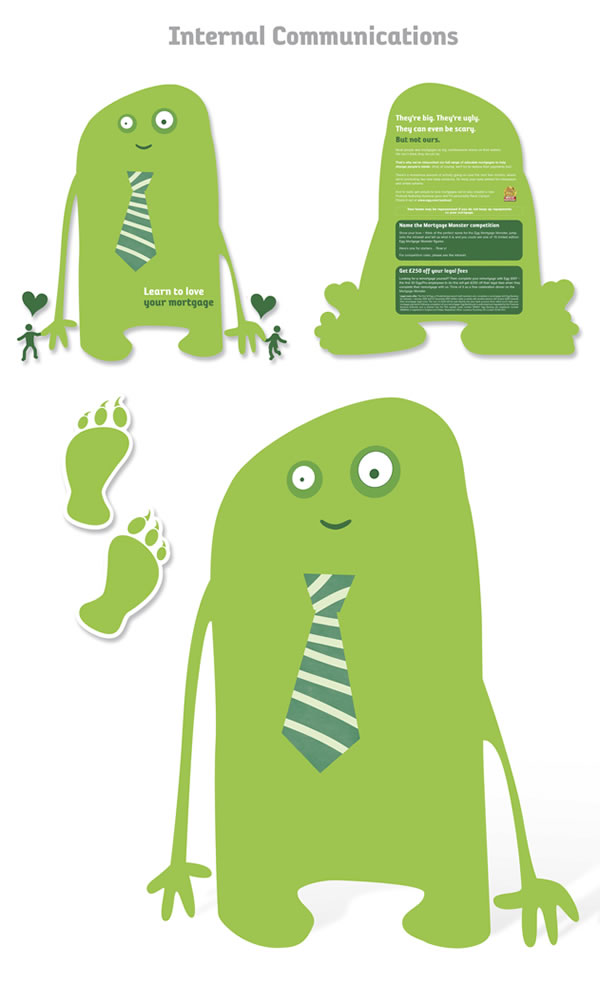 ---
Egg: Credit Cards DR Press/X-tracks – 'Guinea Pigs'
"The 'Guinea Pig' idea was Mother's brainchild, but at Claydon Heeley we were very deft at manoeuvring around any 'ego' issues to produce excellent and highly effective integrated comms. I think 13 years – and over a 100 TV ads – dealing with ATL issues at TBWA served my partner Pete Harle and myself well. Multiple agency 'integration & co-operation' had never been a problem. Not across BBH (Lever), M&C (Bradford & Bingley), DDB (Guardian), Mother (Egg, Observer), Red Brick Road (Heineken) and SHOP nee CDD (Mercedes-Benz)."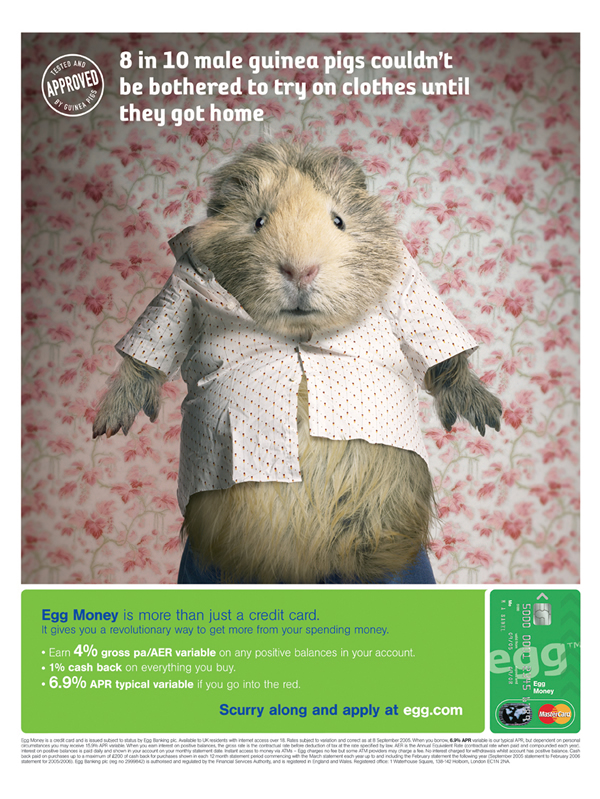 ---
MERCEDES-BENZ: '4MATIC 4X4 EVENTS' WEBSITE/ DIRECT MAIL/ ONLINE BANNERS, EVENT POS/ SHOWROOM POS – 'EXTREME LUXURY'
http://www.explore4matic.co.uk/

"This fully integrated campaign of DM, website, online banners and event & showroom POS, was conceived, produced (with limited assets) and launched within 3 weeks. By anyone standards that is a rapid turnaround – and a quality, on-brand end result. Testament to a great new digital aspect of Claydon Heeley."
---
MERCEDES-BENZ WORLD: COMPLETE INTEGRATED LAUNCH. WEB/ POSTERS/ PRESS/ DIRECT MAIL/ POS.
Visit the site - it says it all...

"Having won the pitch for this account we then spent a year launching it across all media. We entrusted one of our middleweight teams, Tris Williams & Ben Drummond, to deliver this massive undertaking – which they did brilliantly. Very satisfying to keep a high standard across the colossal volume of work – over 200 separate artworks. Especially as budgets were cut half way through the process."
---
NOKIA: 360-DEGREE INTEGRATED CAMPAIGN – 'MAPS'
"To be honest, this campaign didn't pick up any awards, but it is, in its own way, quite extraordinary. A fantastic example of necessity being the mother of invention. (Except it wasn't by Mother, it was by RMG.) This UK-wide campaign was to launch the new Nokia 'Maps' 2.0 Navigation Service. The task (for various reasons) was Herculean. The comms needed to hit 12 major cities with over 100 different specs of communications – all to be conceived, created, produced and implemented within three weeks. Yep, just three frikkin' weeks. Exemplary focus, inventiveness and dedication by Senior Art Director, Paul Waddup and irresistible delivery and team spirit from our Head of Production, Bill McGeorge. This is typical of the 'can-do' attitude that CEO Tim Hipperson imbued on everyone at RMG. The campaign was also very effective."
---
SHELL FUELS: GLOBAL TOOL KITS.
"One of my responsibilities at JWT (along with my partner, Nick Thompson) was SHELL GLOBAL RETAIL. Building planet-sized, integrated tool kits across complex, culturally diverse markets is not for the faint-hearted. That said, we had a fantastic team of account handlers and planners under the auspices of an excellent Global Business Director, Michael Abbott. The work was consistently strong. And the day-to-day running of this business behemoth actually became a lot of fun – a vibe that was picked up by our clients. You'll probably recognize some of the concepts. We even created a set of speculative 'Retro posters', which (only) Shell had the heritage to pull off. Unfortunately, they stalled at the start line. Great to work on, though..."