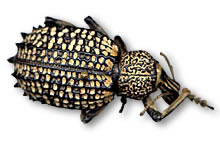 digitalia
"1110000111000100101000010010001111111100110001000000 11011111110111101100000010001111000011100010010100001 11100001110001001010000100001111111101111010001000101 00100011111111001100010011011111110111101100000010001 11011111110111101100000010001001000111111110011000100"
MAZDA MX-5: VIRAL – 'FUN IN THE SUN'
"Nick Thompson and I were the CDs here, but this viral was all about the great teamwork between client, account team, production team and creatives. The creative team were the excellent Chris Chance & Lewis Bish. Check the Frisbee-filled viral out on You Tube – it's flying..."

---
HSBC: BANNER/MPU – 'RUBIK'S CUBE'
"Puzzle: How do you squeeze an idea that let's the user interact with a digital Rubik's Cube into a teeny, weeny 30K banner? Solution: get the tech wizard Howard Boland to write the algorithm. Creative team were the (much-missed) David Doubthwaite and the (seldom-missed) Tim Noble. :-)"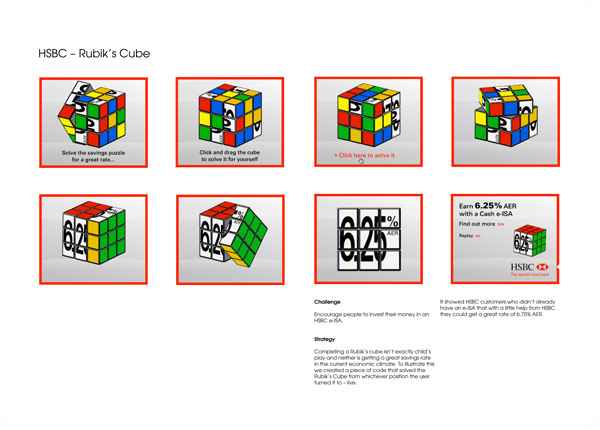 ---
TOURISM IRLEAND: RICH MEDIA BANNERS – 'Go where Ireland takes you' campaign.
"This campaign 'Go where Ireland takes you.' for Tourism Ireland was one of the best of a raft of great creative that came out of RMG before it merged into JWT. These beautiful, insightful and witty executions came from Tim Noble and Gemma Hagan. Their sensitivity and energy combined with the nous of Simon Langford-Ely produced work that, not surprisingly, collected a lot of awards. There were about 2O of these rich media gems – here's my three faves..."
TOURISM IRELAND BANNERS – 'SHEEP'
"Mouse over this banner and your cursor becomes a sheepdog. Round all the flock up – which is really absorbing – and you get a pint at Matt Malloy's. Listen, the dog even barks. Genius."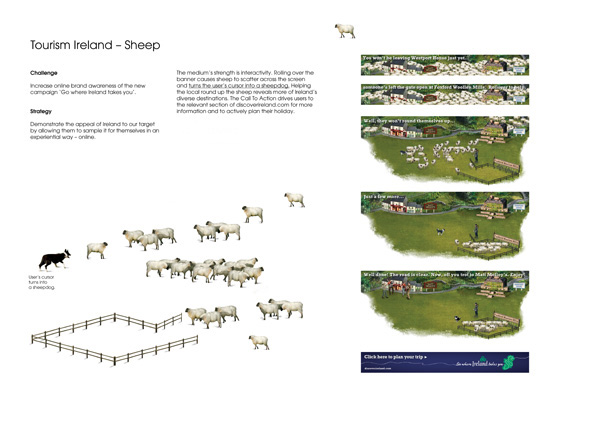 ---
TOURISM IRLEAND: BANNERS – 'CRABS'
"Use the cursor to hook your very own crab supper. Seafood doesn't come any fresher. And neither does the thinking..."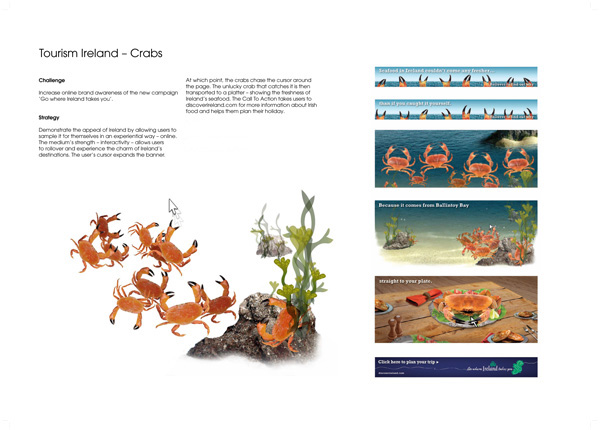 ---
TOURISM IRLEAND: RICH MEDIA BANNERS – 'BINOCULARS'
"You can see the whole of Ireland through this one banner. Courtesy of your very own cursor-come-binoculars. Exquisitely produced. Go on, have a quick peek..."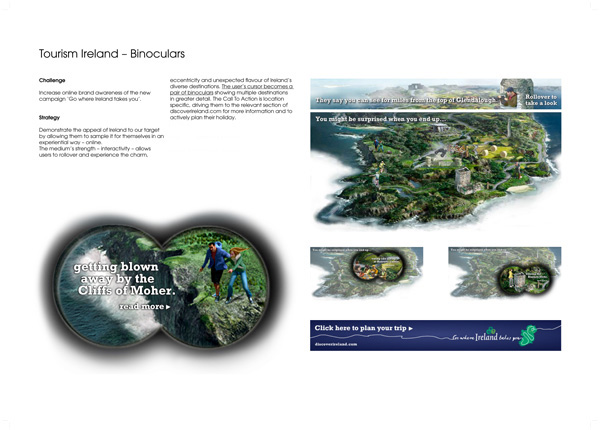 ---
LEGO-DUPLO: WEBSITE WELCOME VIDEO – 'SQUAREWORLD'
"My partner Nick Thompson and I helped grow this campaign from a tiny, Eastern European budget into a successful, substantial client that creatives really wanted to work on. We ended up building our own global website. To do this, we invented a whole new planet – SQUAREWORLD. Check out the intro video link. Brilliant work from Josh Haines and Paul Waddup aided by relentless, highly inventive production from Jools Poole. The guy is a rock star. (No, seriously he is. Google him...)"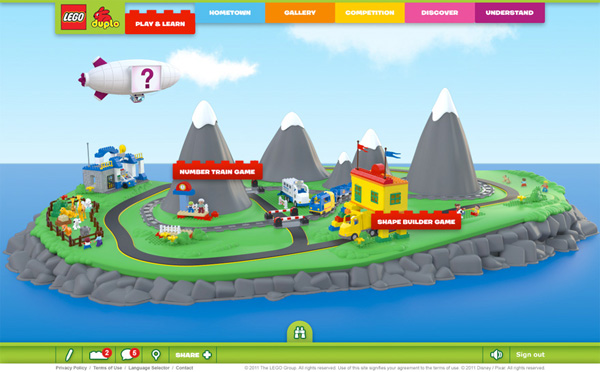 LEGO-DUPLO: WEBSITE WELCOME VIDEO - on youtube
---
HSBC: HOMEPAGE TAKEOVER – 'FROG'
"Very flatteringly, MSN used this execution as one of their top examples of 'How to create an engaging homepage takeover'. Which was a mighty big compliment. Shortlisted at Cannes, too, for the Cyber Lions. A nicely downloaded piece of thinking from Simon Langford-Ely and Gary Fraser."
---
HSBC: HOMEPAGE TAKEOVER – 'BUTTERFLIES'
"Here's another execution for HSBC's annual 'Green Sale'. One of the rare examples where a homepage takeover charms and engages rather than offends and frustrates…"
---
HSBC: BANNER/MPU – 'POLAR BEAR'
"Use the cursor-come-hand to tickle the Polar Bear. COOCHY-COOCHY-COO… This execution also tickled tens of thousands of users."
HSBC: BANNER/MPU – POLAR BEAR - on youtube
---
NOKIA: PHONE APP – 'OK'
"I LEEEEERV THIS IDEA. It's an app-vertising campaign in just two (count 'em, two) letters. They being O and K. (Pronounced 'OCK'.) OK is at the core of the word NOKIA. Get it? Course you do. And our resourceful little 'OK' phone butler app is at the core of the NOKIA user's social life. He's a flexible, clever, resourceful, tech-savvy, jargon-busting little helper. UNBELIEVABLY, this OK app didn't run. So I've included him here, because he needs to strut his stuff somewhere. Astoundingly simple insight from Tim Noble & Gemma Hagan. If there's an advertising god (which I've heard there is) one day 'OK' will come back from the idea graveyard..."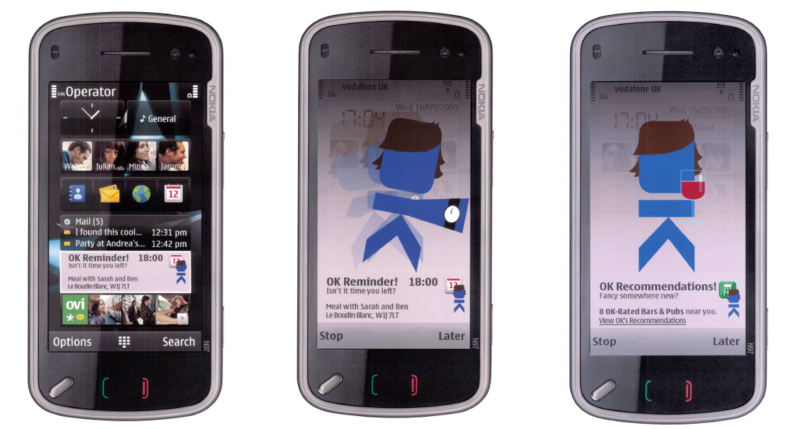 ---
SHELL: BANNER – 'TECH-ZONE'
"Shell wanted to target Formula One enthusiasts by leveraging their incredible 60-year partnership with Ferrari. The aim was to raise awareness of V-Power fuel and Helix Ultra lubricants. We gave them a button banner, which expanded dramatically into this evocative, highly engaging dashboard. Streaming videos, race and weather updates, live Twitter feeds, never-seen-before content – you name it, we squeezed it into this banner. The content was then repackaged for every Shell-sponsored Grand Prix. Lots of energy and dynamism in the design thanks to highly talented Lee Casey. And yep, the goddam' petrol heads loved it."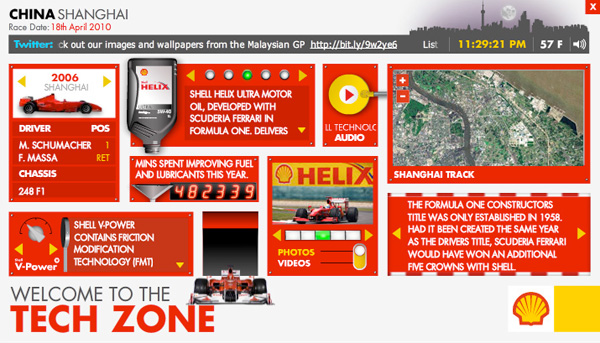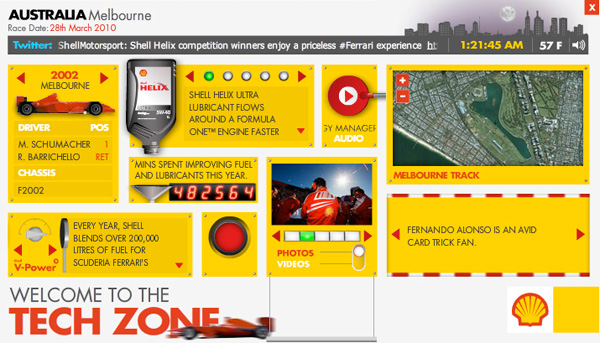 ---
MATES: VIBRATING CONDOMS
ONLINE VIRAL/ WEBSITE/DR PRESS - 'RING'

"This viral got lots of PR and hit no.2 in viralchart.com with over 250,000 hits in just 3 days. The rest of the comms were drivers to a 'sex survey' website. It had that crucial 'send-on-ability' factor that separates a good viral from what would otherwise be just a good TV ad. It also bagged a Silver at the IPA Health Awards."
---
3 TELECOMMS: MMS CAMPAIGN.
"Oh no, not another MGM campaign, per-leeeese!" - But not with 3 Mobile. And not when I'm working with Nick Thompson, our new AD/CD. He and I love turning what seems an ordinary brief into extraordinary creative. Scroll through the following: a Before and After pair of MMS messages, the front cover of a Direct Mail piece and a page of MicroSite copy explaining the whole MGM deal.
So. MMS campaign ...
First -> Then ->
And the cover of the Direct Mail piece ...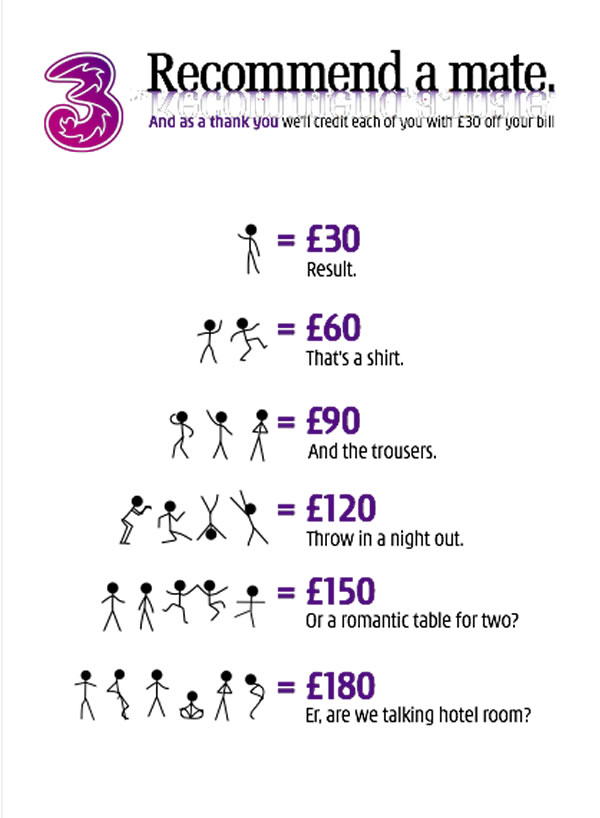 Yep, you got it - the MicroSite page copy. Fin.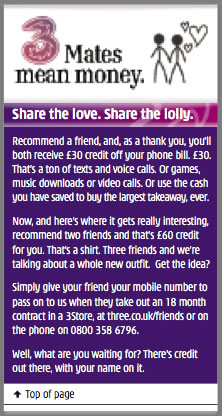 ---
3 CUSTOMER ZONE: '3opolis' – the Virtual City.
"This is only concept work – but let me talk you through it. It's a virtual online city – one that you can 'inhabit' and interact with 24/7/365. You can upload and download your own eclectic content and own property on it. It was the brainchild of myself and the excellent Art Director, Nick Thompson, who has now been rightly elevated to Creative Director status at Claydon Heeley. The planner on the (virtual) job was the brilliant Timmy Millar. The nice thing about '3opolis' was that if you were a loyal and high-usage customer, you could trade up your residence, adding extra rooms and personalising your interior. Also, it was realtime – it followed Greenwich Mean Time and so the site would reflect the time of day. If you logged on in the evening, you would see the city illuminated at night – it would then offer up the kinds of services and music that the target would expect to find after bedtime."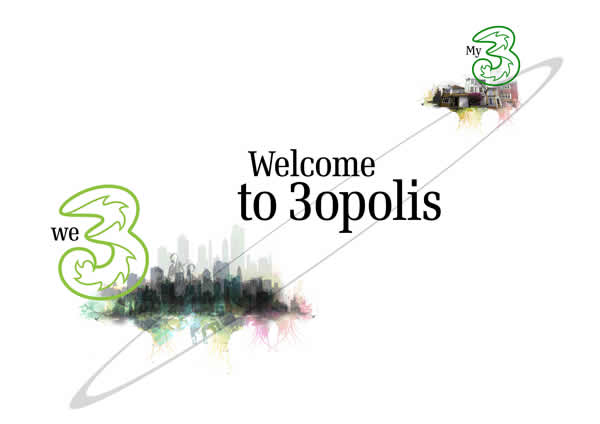 ---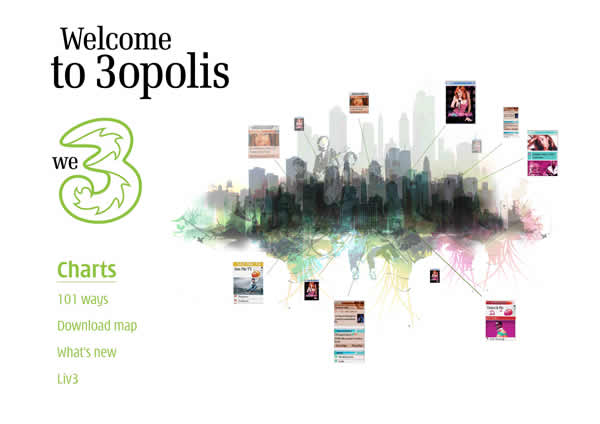 ---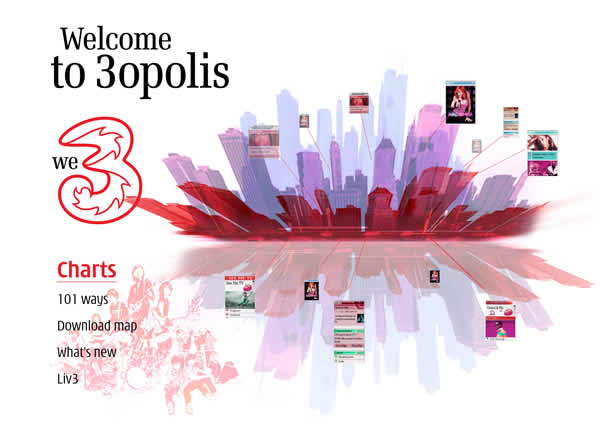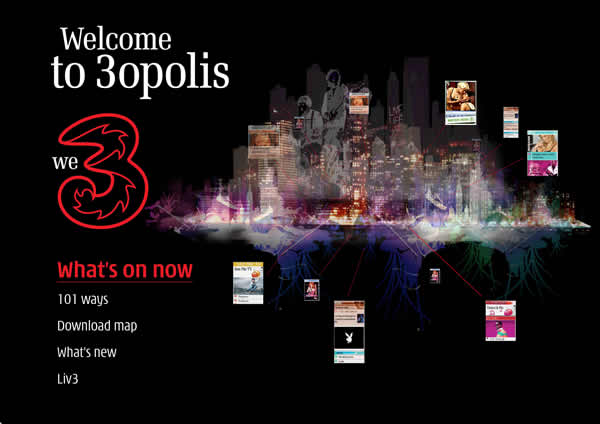 ---
CALLAWAY GOLF: HX BALL LAUNCH, ONLINE/AMBIENT – 'HOAX'
"This was a fantastic project for Callaway Golf. The (frankly ludicrous) idea that a load of golf balls had been hit over the Atlantic from a test driving range in California. But hey, it worked. We planted golf balls – with a URL on them – on lots of media people's lawns. It got lots of PR. Had a microsite, too."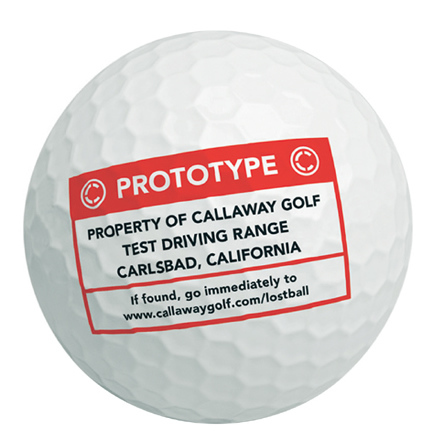 NOKIA: BUS SIDE – 'MAPS'
"When is a boring bus side not just a boring bus side? When it harnesses an in-built GPS tracking facility to create specific messaging determined by the location of the bus … that's when. Non-stop thinking to help launch the new Nokia 'Maps' 2.0 Navigation Service by senior art director, Paul Waddup."